Books
I am currently editing my fifth book, "Own Your Talk: Captivate Any Audience in Meetings, Interviews, and Public Speaking."
Based on the "Own Your Talk," workshop series, this book will help you beat public-speaking fears and learn to captivate your audiences. This will be another in my series of self-development books.
Life Elements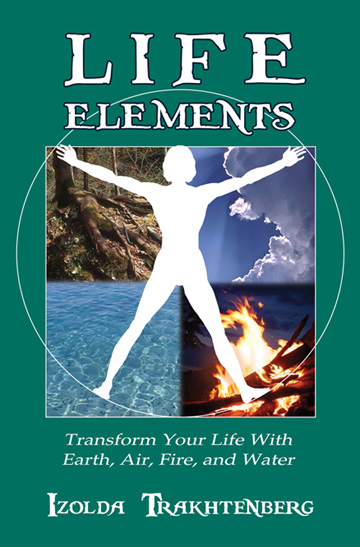 Transform Your Life With Earth, Air, Fire, and Water.
Forge your path to a fulfilling, bountiful, joyful life. Many of us are seeking a different way to live – one that is peaceful, mindful, open, and active. In our search, we combine ancient and modern traditions. Some merge cutting-edge technology with yoga or Tai Chi. Others employ ancient meditation techniques and elemental energies and reinterpret them. We move forward; we decide our path, and here we access the source for a peaceful, joyful, and productive life.
The
Life Elements
System presents a practical, hands-on method to change our lives. Part guidebook, part assessment tool, "Life Elements" calls us to action to transform our lives. Take the
Elemental Designation Assessment Test
to discover your governing Element and learn your next steps to transforming your life elementally.
Your bonus for visiting this page: The latest meditations from my first book, "Life Elements" are now up on youtube.
amazon.com | Barnes & Noble | LifeElements.info | Ebook at Barnes & Noble | iBookstore (iTunes) | Kobo
 Fairy Godmother Diaries Series (fiction)
The Piano's Key: Book Two of The Fairy Godmother Diaries
Against all odds, Evie Songbottom and Joanna Brennan defeated the Bane Zeke Dunne and the Ramrocks. As a bonus, Evie earned her Level 4 Fairy Godparent stripes. But now, they face new challenges. While Joanna becomes a guide to her own students, Evie leaves New York and her love, Daniel, to continue her training in the Fairy Lands.
After Daniel is attacked and left for dead, Evie returns to New York to find that he has no memory of her or of their lives together. She vows to protect him while he embarks on a new life without her.
Foes, old and new, surround Evie as she tries to help Daniel and guide her new charge to his destiny. When a terrifying new danger threatens the world, bonds are destroyed, alliances are forged, and good and evil clash in an explosive battle that will decide the fate of both worlds.
Find it at your favorite retailers. Click below.
amazon.com | Barnes & Noble | iBookstore (iTunes) | Kobo
The Fiddler's Talisman: Book One of The Fairy Godmother Diaries
New York City is only a hop, skip, and Ley Line jump away from the Fairy Lands. And if anyone can make it there, it's Fairy Godmother, Evie Songbottom.
Evie isn't your childhood Fairy Godmother. She prefers whiskey to glitter, movies to wishes, and music to just about anything.
But she'll need more than a bottle of Jameson and a bad attitude to guide her Charge, violin prodigy, Joanna Brennan. Born of fairy ancestors, Joanna caught her boyfriend cheating with her Juilliard roommate. Now, her magic-tinged sorrow is flooding New York with disaster.
Evie will have to navigate the treacherous landscape of Joanna's wounded soul, and her own forbidden new love, before Joanna's grief rips apart the fabric of all the worlds.
amazon.com | Barnes & Noble | iBookstore (iTunes) | Kobo

Self-Improvement Non-Fiction
Today's Tarot: Guidance for Daily Life
Get a jump-start on your day with this interactive ebook. Choose a new card every day from the four random selection sets.
See my interpretation of that card and how it applies to your life. Receive your Call to Action for a more productive, peaceful, and joyful day.
amazon.com | Kobo
Share this page.