Are You Ready to Unleash Your Ingenuity and Achieve Success?
Become more innovative, productive, and successful. Help your staff access their ingenuity. Empower them to solve problems and come up with creative ideas to help you all thrive. I'm Izolda Trakhtenberg. I'm here to help you and your organization master these techniques.
While going through a year-long, multi-country, immigration process, I came up with ingenious solutions to language and communication barriers. Then, I used those skills to achieve success and happiness.
Later, I took my knowledge and focused it on teaching others. As NASA Trainer and Educator for twenty years, I developed inspiring ways to approach the hardest topics. Now, I am here to help you find your ingenuity so you can rise to any challenge and thrive. You, too, can become a creative, problem-solving innovator.
My programs and workshops provide valuable experiences to develop confident communication, innovative problem-skills, and ingenious creativity.
On August 1, 2018, I appeared on a segment of NewsChannel 8's "Let's Talk Live."  We talked stress management for busy people. Please see the video of the episode here. And get your very own copy of my new guide, to beat stress right when it happens.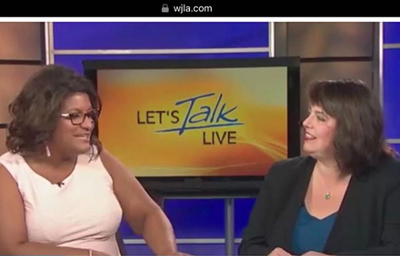 Communication is the key!
To be great leaders, we must nurture integrity, creativity, inspiration and listening skills. We can achieve this in ourselves and our employees, or we will not succeed. And, to become great communicators, we have to achieve similar levels of excellence.
International Speaker
My first language is Russian. I learned other languages as my family immigrated to the USA through a year-long process. During that time, I engaged and communicated with many people all over the world. Additionally, that exposure to many cultures and languages inform my communication style. Last, I conquered my own public-speaking phobia to travel the world as a NASA trainer and educator.
These experiences inspired me to develop the "Speak To Succeed" process. Speak From Within, the book that details the process came out on September 1, 2018.
Now, I help others find their voices and their ingenuity. Together, we break through barriers to creativity and innovation. And participants learn powerful communication methods that help them thrive. The feedback shows that my workshops transform lives.
Get in touch for more information or to check on availability.